One of the most popular additions to a kitchen renovation is a custom kitchen island. Custom Kitchen Islands provide extra counter space and storage, and they can be customized to fit your specific needs. There are many different kitchen islands available, so it's important to choose the one that best suits your needs.
If you're looking for extra counter space, a simple kitchen island with a countertop and a few cabinets is a good option. If you need more storage space, consider an island with a built-in cabinet or a drawer. If you have a lot of cookware or appliances that you want to store, choose an island with a large storage area.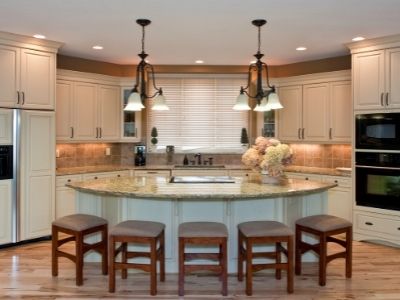 Custom Kitchen Island Cost
The cost of a custom kitchen island will vary depending on the size, features, and materials used. Custom Kitchen Islands are typically priced according to the material used. Wood is among the most expensive options, while steel and vinyl can be more affordable. The cost will also depend on the countertop material you choose if your Custom Kitchen Islands has drawers or cabinets, and what type of appliances or features it has.
At Kitchen Renovation Scarborough we offer you the best Custom Kitchen Islands. Kitchen Renovation Scarborough is a dedicated and professional company that offers their clients affordable and high-quality renovation services for kitchens.
Custom Made Kitchen Islands
Kitchens are one of the most important and common rooms that need to be renovated. The Custom Kitchen Islands renovations and remodeling can completely change the look and feel, making it more modern and functional for its new owners.
Custom Built Kitchen Islands
Kitchen Renovation Scarborough specializes in custom made kitchen islands. We provide a personalized design for each client so that the final product fits their needs exactly. Every Custom Kitchen Islands made by us is unique and fits perfectly with the architecture of your kitchen.

Affordable Kitchen Renovations Scarborough
We are experts in Affordable Kitchen Renovations Scarborough. Our contractors are experts in kitchen renovations, so you can be sure that you are getting the best possible results for your money. We offer different options for your Kitchen Renovations Scarborough project. Our professionals are qualified to install.

Commitment To Customer Satisfaction
While you are looking for Kitchen Renovations Scarborough, you want to get committed professionals who will work with your needs and demands. We take pride in making sure that our customers always come first. This means providing you with top-quality customer service and products and services.

Optimize Your Space
We have experience optimizing kitchens that have been used for a long time, but we also understand how to maximize the use of new kitchens. We will help you choose what is most functional and attractive for your new space. When it comes to your home improvement project, you want everything to be as efficient as possible.
Get In Touch For A Consultation!
If you're looking for quality and affordable Custom Kitchen Islands, get in touch with us at Kitchen Renovation Scarborough today. We offer a customized design for each client so that our final product fits their exact needs and requirements. Call us now to get a consultation!